Description
HOTA D6 Pro AC/DC Dual Channel smart charger for Lipo with also Phone Wireless Charging.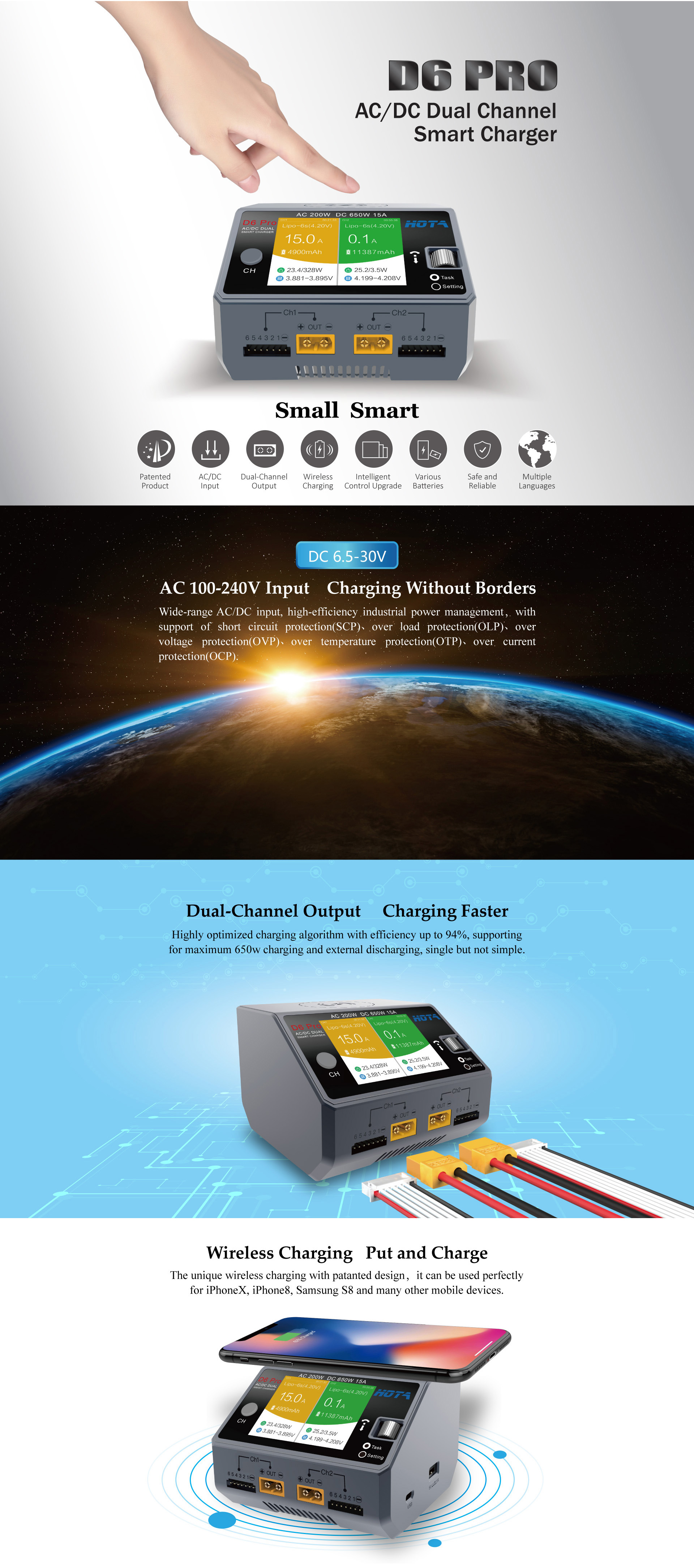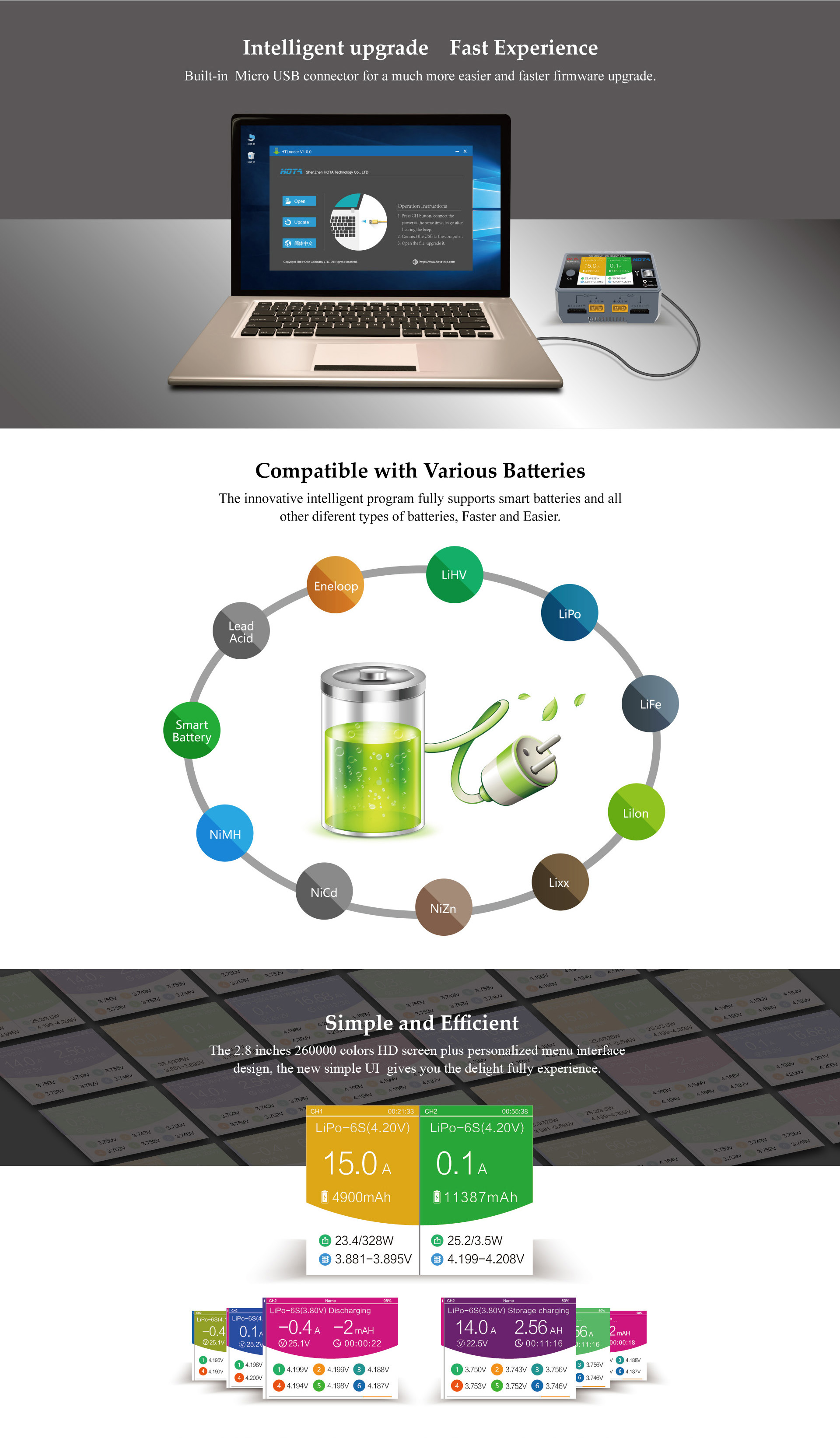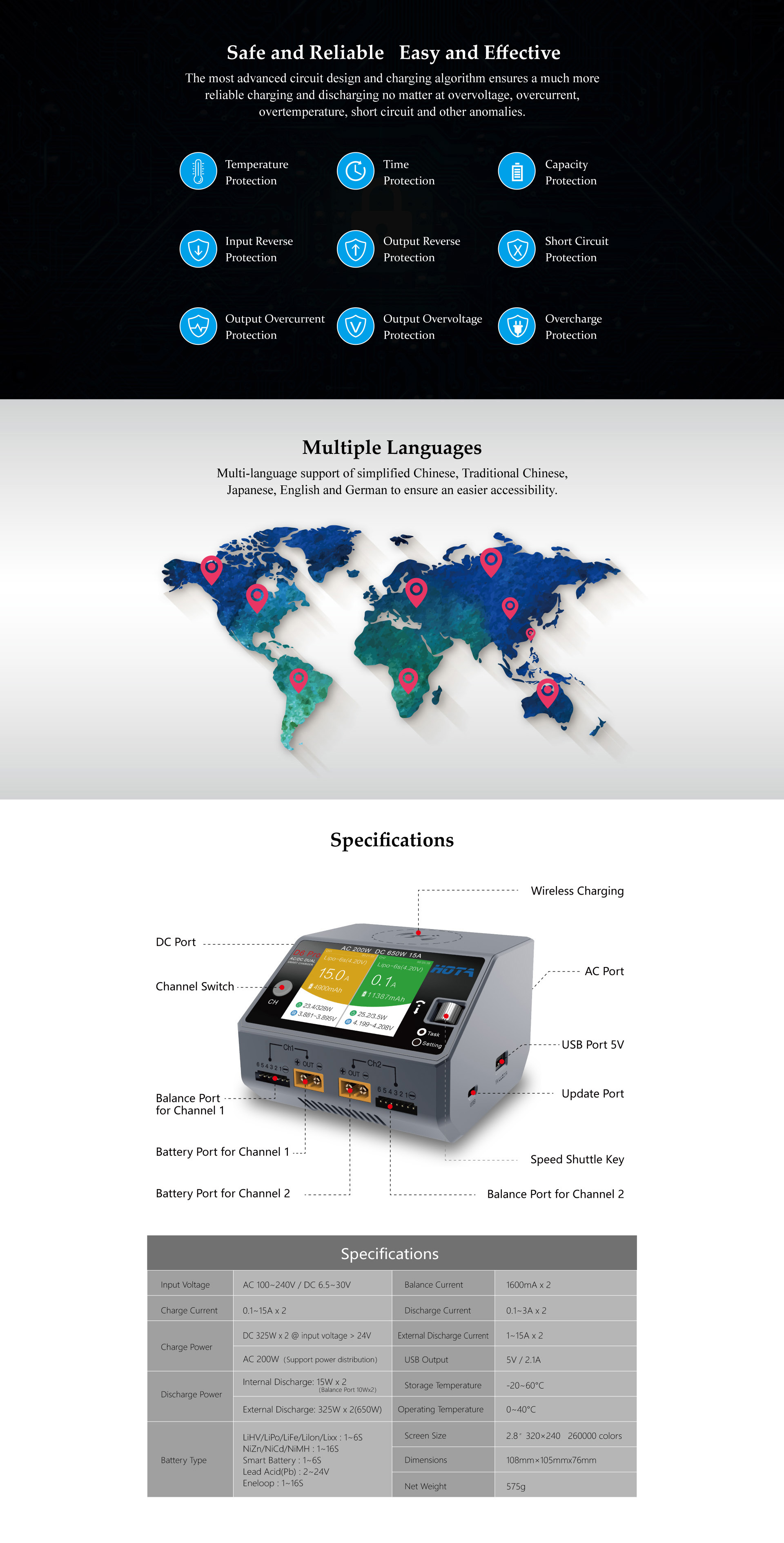 FEATURES
Dual Channel Output, Charging Faster : Highly optimized charging algorithm with efficiency up to 94%, supporting for max. 650W charging and external discharging, single but not simple.
Wireless Charging, Put and Charge : The unique wireless charging with patented design, it can be used perfectly for iPhoneX, iPhone8, Samsung S8 and many other mobile devices.
Intelligent Upgrade, Fast Experience : Built-in Micro USB connector for a much more easier and faster firmware upgrade.
Compatible with Various Batteries : The innovative intelligent program fully supports LiHv/LiPo/LiFe/Lilon/Lixx (1~6S)NiZn/Nicd/NiMH(1~16S)Smart Battery (1~6S)Lead Acid(Pb)(2~24V)Enelop(1~16S)
Safe and Reliable, Easy and Effective : The most advanced circuit design and charging algorithm ensures a much more reliable charging and discharging no matter at overvoltage, overcurrent, overtemperature, short circuit and other anomalies.
All-in-one protection, inc. overheating protection, time-exceeding protection, capacity protection, inputreverse protection, output protection, short circuit protection, output current protection, over output voltage protection, overcharge protection.
Modes: Balance Charge, Fast Charge, Discharge, Storage Mode, Manual Charge; Terminal Voltage Control, Temperature Overheat Cut-Off
DESCRIPTION
Auto detecting lipo cells.
Dual independent charging ports
Optimized operating software
Internal independent lithium battery balancer
Balancing individual cells during battery discharging
Adaptable to various types of lithium batteries
Fast charge and storage modes of lithium batteries
Data store/load
Terminal voltage control(TVC)
LiPo battery meter
Maximum safety Automatic charging current limit
Adjustable capacity and charging time limits
Temperature Threshold(temperature probe is not included)
Processing time limit
Internal Resistance Measurement
Activation and Restoration for Excessive Discharged Battery
Extenal Discharge Function.
SPECIFICATIONS
Input Voltage: AC100~240V / DC 6.5~30V
Charge Current: 0.1~15A × 2
Charge Power: C 325W × 2(650W)
AC 200W(Support power distribution)
Discharge Power Internal discharge: 15Wx2 (balance port 10W)
External discharge: 325W × 2(650W)
Battery Type LiHv/LiPo/LiFe/Lilon/Lixx : 1~6S
NiZn/Nicd/NiMH : 1~16S
Smart Battery: 1~6S
Lead Acid(Pb): 2~24V
Enelop : 1~16S
Balance Current: 1600mA × 2
Discharge Current: 0.1~3A × 2
External Discharge Current: 1~15A × 2
USB Output: 5V / 2.1A
Dimensions: 108 ×105 × 76mm
Net Weight: 555g
INCLUDED
1* HOTA D6 Duo Pro AC/DC Charger
1* Power Cord
1* Manual